Our Blog
The Process of Making Test Cubes Using Fresh Concrete
Posted on March 31, 2019
Majority of the standards have predefined the approval criteria of quality concrete. In almost all the conditions, the compressive strength of 28 days shall be the individual benchmark for accepting or rejecting the concrete. Moreover, the compressive strength test of the concrete can be carried out after 7 days to get a fair idea about the quality of the concrete in relatively shorter time. Method of Preparation for Test Cube.
Equipment
Given below are the equipments that are required for the preparing the concrete cubes.
Sample tray;
Tower or Steel float;
Compacting bar;
Mould for designing test cube;
Curing tank
Permanent Marker.
A barrow or bucket for transporting the samples;
Spanner;
Scoop;
Cleaning rags;
The Total No. of Cubes
In total, 6 cubes measuring 150 x 150 x 150 mm should be cast. 3 cubes for 7 days testing, while 3 cubes for 28 days testing should be used.
The Concrete Sample
The concrete sample for test specimen should be taken at the mixer. However, the sample should be taken from the transportation vehicle while during the time of the discharge. Once the sample is obtained, it should be mixed in a non-absorbent base along with shovel till the time it achieves a uniform appearance.
GQuantity of concrete in the work (m3)
Number of samples
1-5
1
6-15
2
16-30
3
31-50
4
51 above
additional sample for 4 plus each additional 50 m3 or part thereof.
Casting Of Cubes
The cube mould plates first be removed and then should be cleaned properly and collected and it should be ensuring that all the bolts are fully tight. Cube side faces must face parallel post application a thin layer of oil to the face of mould.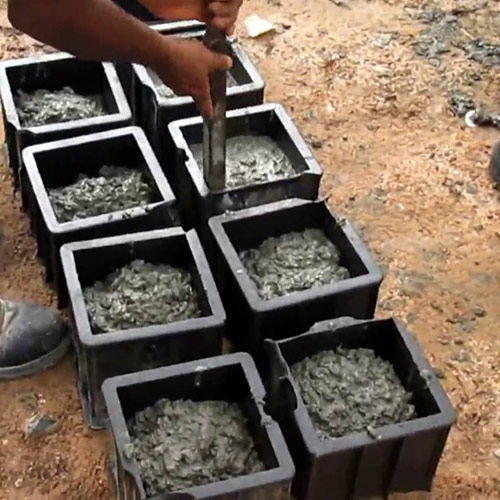 Compaction and Casting By Hand
Once cubes have been cast, the cube moulds should be filled with concrete sample in 3 layers. Make sure, that each layer is compacted using vibration or through the hand. Also, each layer containing the concrete should be compacted almost 35 strokes by using the tamping bar. Once, the concrete samples have been taken and mixed, now the cubes should be made to cast quickly as possible.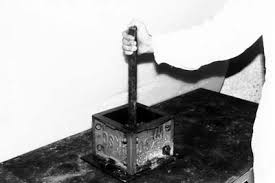 Curing
Now, the casted cubes should be placed under the shed. The place of shed shouldn't have any sort of vibration. The temperature of the condition should range between 220C to 330C, and it should be kept for 24 hours covered with gunny sack or wet straw.

Marking
After the initial curing of the cubes, they should now be marked clearly immediately. For this purpose, small piece of paper can be used to write the details of the cube. After removal of the cubes at the end of 24 hours, it should be submerged into clean water for 7- or 28-days testing at a temperature of 240C to 300C. Also, to get best results, the cubes should be tested in a surface condition that is saturated and dry.