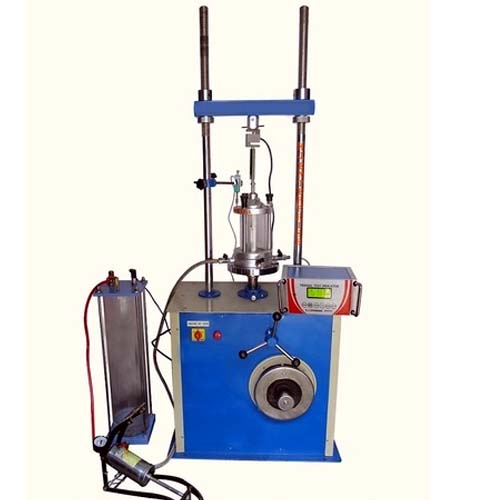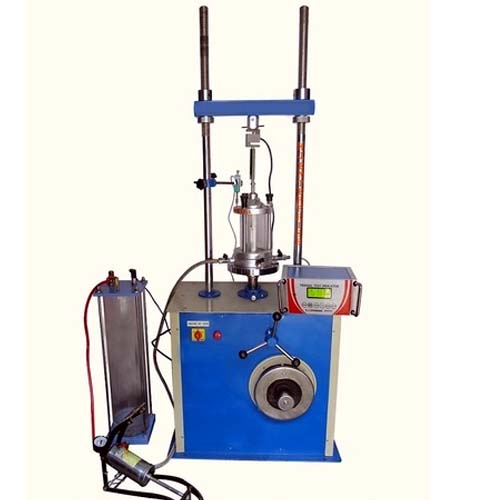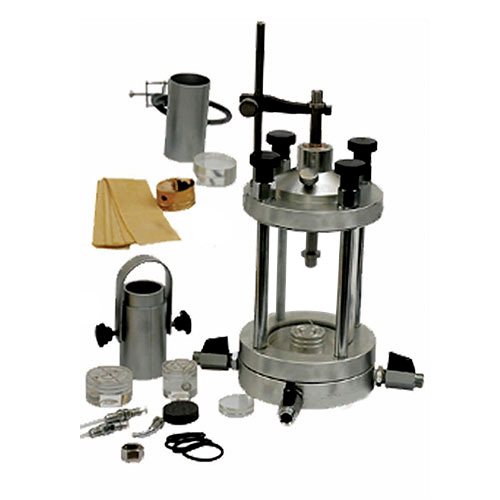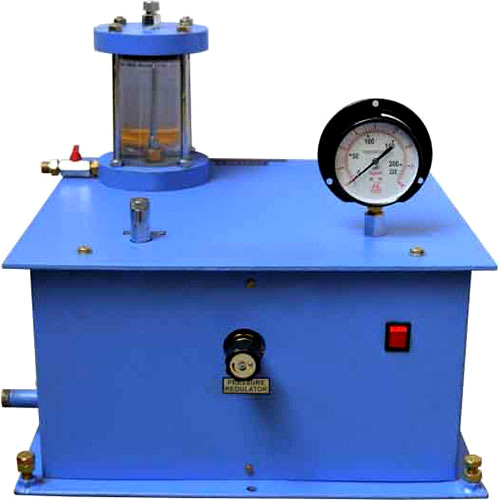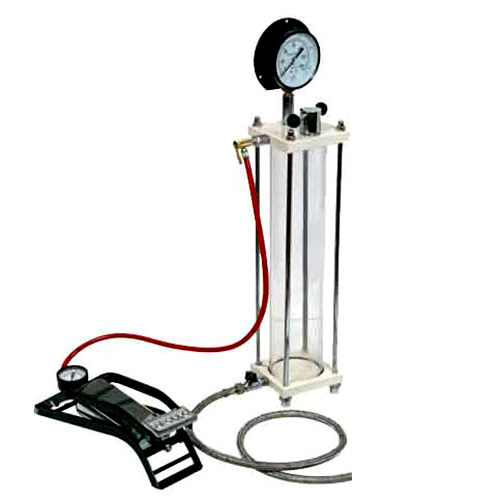 Digital Triaxial Shear Test Apparatus
Model No.: SET-1236
Standards:
Leveraging on our vast domain knowledge, we at Civil Lab Equipment Manufacturer take expertise in manufacturers and suppliers and exporters of best quality triaxial shear test and Motorised Load Frame. Besides, we also manufactures and suppliers of triaxial shear test lateral pressure assembly 10 kg, Dead Weight Type Oil and Water Constant Pressure System and Pore Pressure Apparatus 10 Kg/Cm² to top notch quality. Each of these equipment is manufactured in our world class manufacturing unit using best quality raw materials and most advanced technique.
Triaxial CellSpecification
Triaxial Shear Test is utilized for testing high soil specimen of 38mm dia x 76mm. The cell can be opened with ease by releasing the four nuts of the tie rods.
The cell is leak proof up to 10kg/cm.sq. of fluid pressure. The cell comes equipped with four valves that are sleeve packed with no volume change type in its base.
These valves are mainly utilized for cell pressure, for pore water pressure and for draining or putting back the pressure.
Moreover, the Triaxial cell's loading plunger comes with a dial gauge rest.
Load Frame, Motorised, 30 SpeedsFeatures:
It is two pillar type
It comes with a Detachable Frame
Enclosed motor and gear system
Easy to operate
Useful for CBR and Triaxial test
The Load Frame comprises of a cabinet which is equipped with the gear system along with the motor having the sturdy angle iron frame. Carried on a lead screw, the bottom loading platen is used for the loading. The top load bracket sliding over the two front standing pillars, can be made to position at height of the choice. It also houses a screw adapter for the standard Proving load cells and rings.
Rates of Strain: 30 fixed speeds between 0.00048 mm/min and 6.00 mm/min.
Suitable for operation on 220 V, 50 Hz, single phase, AC supply.
Lateral Pressure Assembly 10kg / Cm²
Specification:
The apparatus features a pressure chamber which comes equipped with a projecting edge at the top fitted with a 10 kg/cm2. It also has a pressure gauge along with a pumping in the air. Further, the apparatus includes one water inlet and one drain cock that are attached to the chamber. The foot pump that is provided along with lateral pressure assembly can create a pressure of 10 kg/cm2 with ease. The apparatus is complete with a connecting pressure hose.
Dead Weight Type Oil and Water Constant Pressure System
This device is mainly utilized for the purpose of maintaining cell pressure which remains static for a good part of the time. The system can simply be utilized as substitute to conventional constant pressure system that makes utilization of the mercury pots if the function is to be performed at certain height. Dead Weight can maintain pressure under the cell upto 20kg/cm sq. Pressure is maintained constant in the system by a balancing calibrated weights on a spindle against a column of oil, operating under constant feed back.
Construction:
The system consists with pressure oil pump constantly run by an electric motor during the test period. The internal components are made with a strong compact housing. The piston on which weights are kept rotates with minimum friction. A transparent oil water vessel is contently provided to transmit pressure to the cell and hand pump provided priming and to maintain constant pressure during power failure.
Specification:
Electric supply 230V, Single Phase, 50Hz, AC supply
Steps of pressure 0.5bar (0.5kg/cm2)
Accuracy + 0.5%
Range 0-20 bar(0-20kg/cm2)
Pore Pressure Apparatus 10 Kg/Cm²
The Pore Pressure Apparatus is mainly utilized for the purpose of measuring pressure of pore water and pore air pressure in soils.
Specifications:
The apparatus features one panel for the purpose of wall mounting on which are fitted with a pressure gauge of 1 .0 to 10 kg/cm2 x 0.1kg/crn2 and one Bourdon tube type having a diameter of 20cm.
The apparatus also includes one Glass u-tube manometer which measures the positive and negative pore measures along with checking pressure gauge for zero error.
One 50ml burette is also given which measures the volume change in the specimen of the soil.
There is one pressure pump having four adjacent valves, operated via a hand wheel at the end of the piston rod. The Piston rod goes across the cap of the pump and provides a smooth and seamless adjusting of the pressure.
Loading pad 38mm dia specimens made by perspex
Pair of plain discs 38mm dia and 6mm thick by Perspex
Two pieces of porous stones 38mm dia specimen
Split sand former for 38mm dia specimen. v) Sheath stretcher 38mm dia
12 pieces of rubber membrane sheaths for 38mm dia samples
For synthetic rubber 'o' rings for 38mm dia specimen and One plastic drainage tube.
Geotechnical Testing Lab Equipment