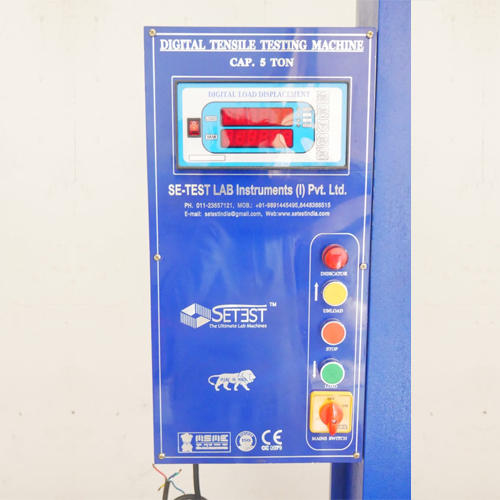 Tensile Testing Machine
Model No.: SET-1810
Standards:
The Tensile Testing Machine that we manufacture, and supply comes in different categories, i.e. floor mounted and vertical type. The Tensile Testing Machine is used for the purpose of ascertaining the elongation and the tensile strength of the host material such as cables, conductors, rubber as well as ferrous and non-ferrous material.
Specification
Our range of Tensile Testing Machine can also be used for the purpose of conducting the cross breaking, compression and shear tests. You can avail our machines in diverse capacities as per your requirement, within the range of 5 kg to 10 Tonnes. With our machines, you can be assured of high degree of accuracy, reliability, consistency and sensitivity.
The Tensile Testing Machines that we make available are provided with highly reliable and quick after sale service by a team of expert professionals. Moreover, our machines are available in kn/n/KGF according to your special requirements.
With our range of testing machines, you can also get computerized versions along with horizontal models. The machine also houses an over-travel safety switches with optional load elongation recorder. Furthermore, the testing machines of Civil Lab Equipment Manufacturer also come with the feature PC, printer and highly advanced microprocessor supported indicator system.
Capacity of Tester with capacity of 500 kg
Traverse Speed: fixed 100 300mm/min or Variable Spped 50 to 500 mm/min
Maximum Grip Separation: 1000 mm
Minimum Grip Separation: 25 mm
Motor: ½ HP Single phase 220V 50 Hz. ( for Capacity up to 100 Kgf )
Power: 220 V AC 50 Hz.
Safety Device: By a Limit Switch to protect from Over Traverse.
Strength of Material Equipment