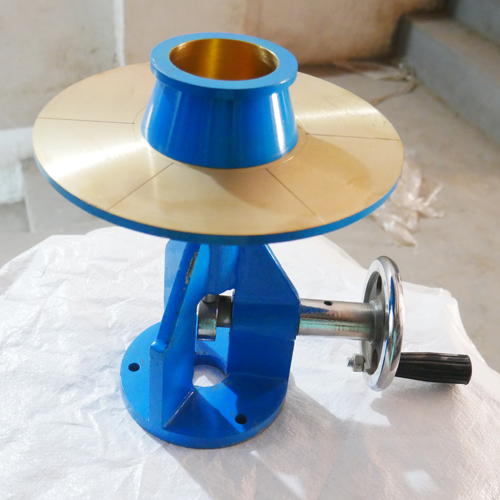 Flow Table Hand Operate
Model No.: SET-1006
Standards:
IS
6932 (PART VIII)
ASTM C 230
BS 4551:1
Flow Table are commonly used in the laboratory. The equipment is utilized for the purpose of ascertaining the flow of consistency and for preparing the standard consistency mortars for testing. The percent increment in the diameter of a conically-molded mortar is determined as the flow.
The Flow Table comprises of a brass table-top 250 ± 2.5 mm dia, which comes mounted on a solid stand. The table-top is fortified with ribs that are properly spaced and are allowed to drop via 12 mm by a hardened and grounded cam.
Being a renowned supplier and exporter of Table-top, we supply premium quality equipment at industry leading price. Further, the table includes a 30m Dia Polish Steel Plate, along with three circles that are annular engraved. The table-top is set for a free fall of 12.5 mm through a cam action.
One Brass Conical Mould
40mm ID at top
65 mm ID at base.
Cement Testing Lab Equipments